Customers buy bottles...
Our range includes home essentials like laundry liquid, washing up liquid, surface cleaners, hand wash and shower gel. All Splosh products are cruelty free, mainly plant derived and septic tank friendly.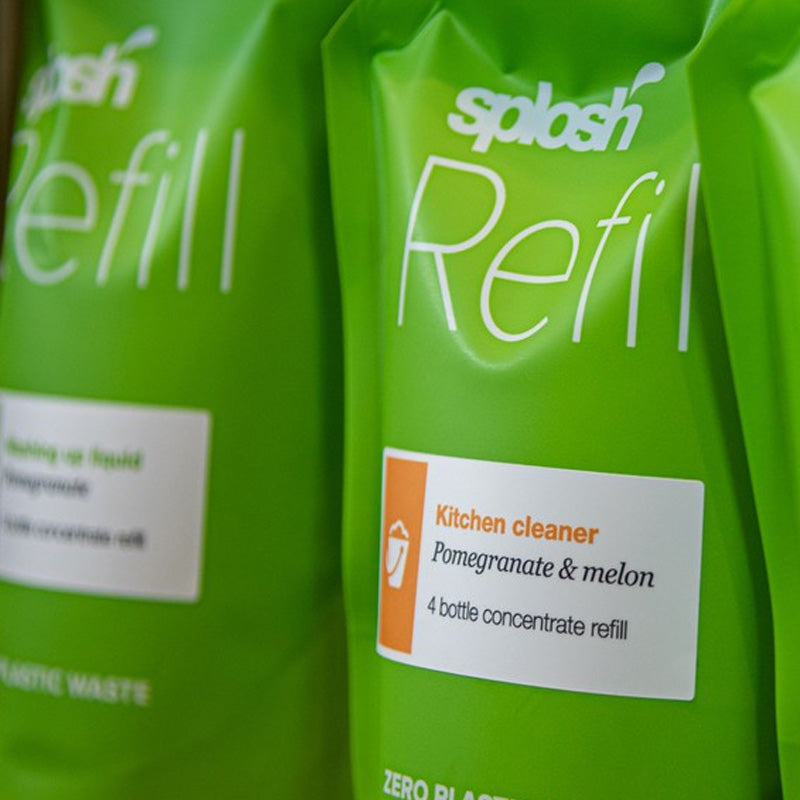 They come back for refills
Customers pop back for refills when their bottles run low. These come as concentrates and so cut packaging by 90%.
Bottles are refilled at home by mixing the concentrates with tap water.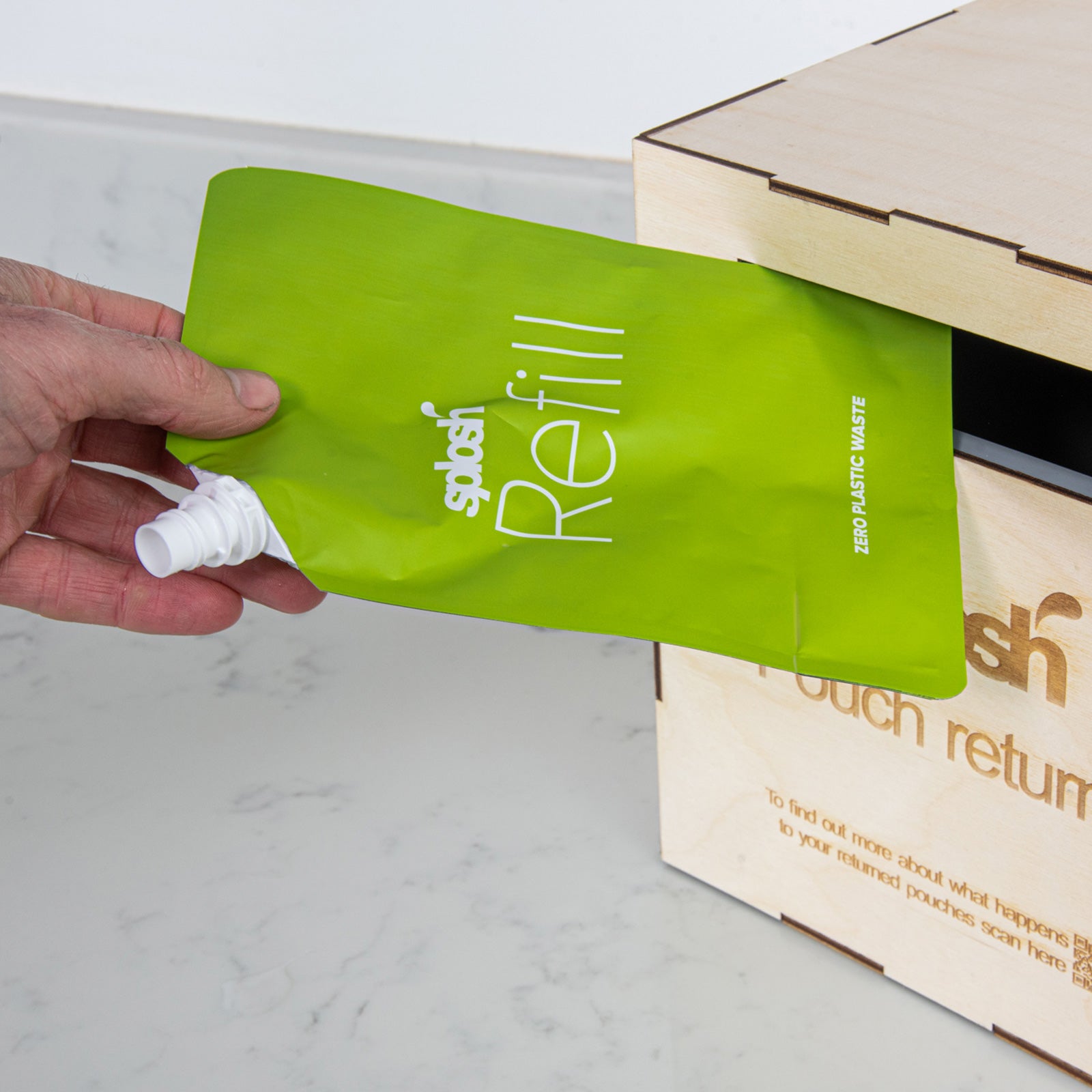 Empty pouches are returned
It's easy for customers to return empty refills to store, using the on-shelf postbox. Pouches compress when empty and take up very little space. Returning the pouches to us is quick and easy.
Sign up for a retail account
Highlights from our retail range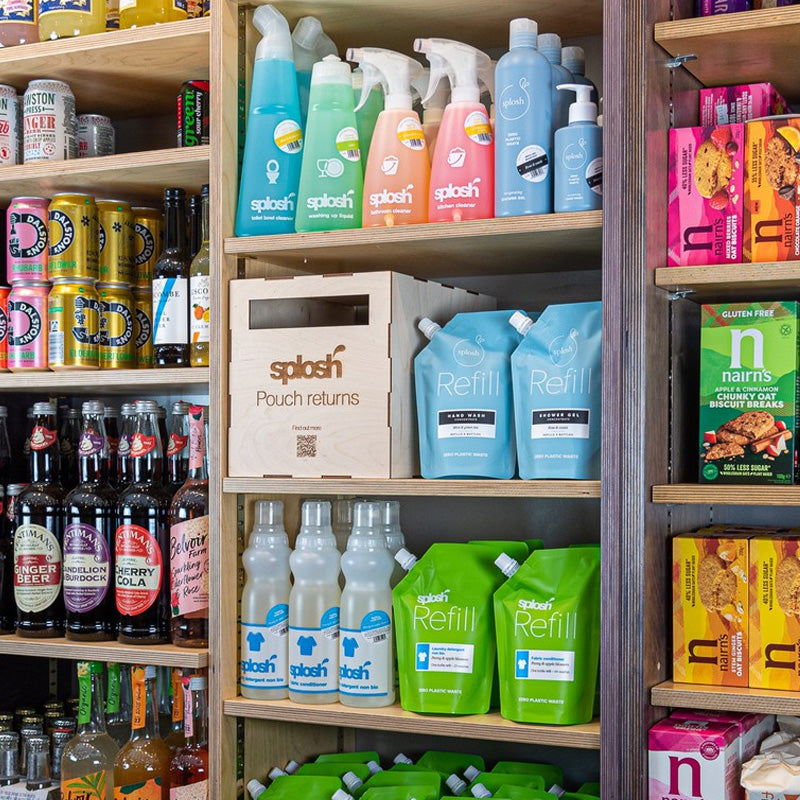 Why you'll love Splosh
There's no refilling in store, so no mess.
Splosh refills come as concentrates, so you save space.
The pouch returns box is small and sits on-shelf.
QR barcode on the returns box explains Splosh benefits to customers.
Splosh online customers return pouches to your store – bringing you new customers.
Why Splosh is great for the planet

We either refill returned pouches or make them into new upcycled products, so there's zero plastic waste.

Our refills are concentrates which makes them small. This cuts transport CO2 emissions by around 75%.

We're cruelty free, mainly plant derived and septic tank friendly.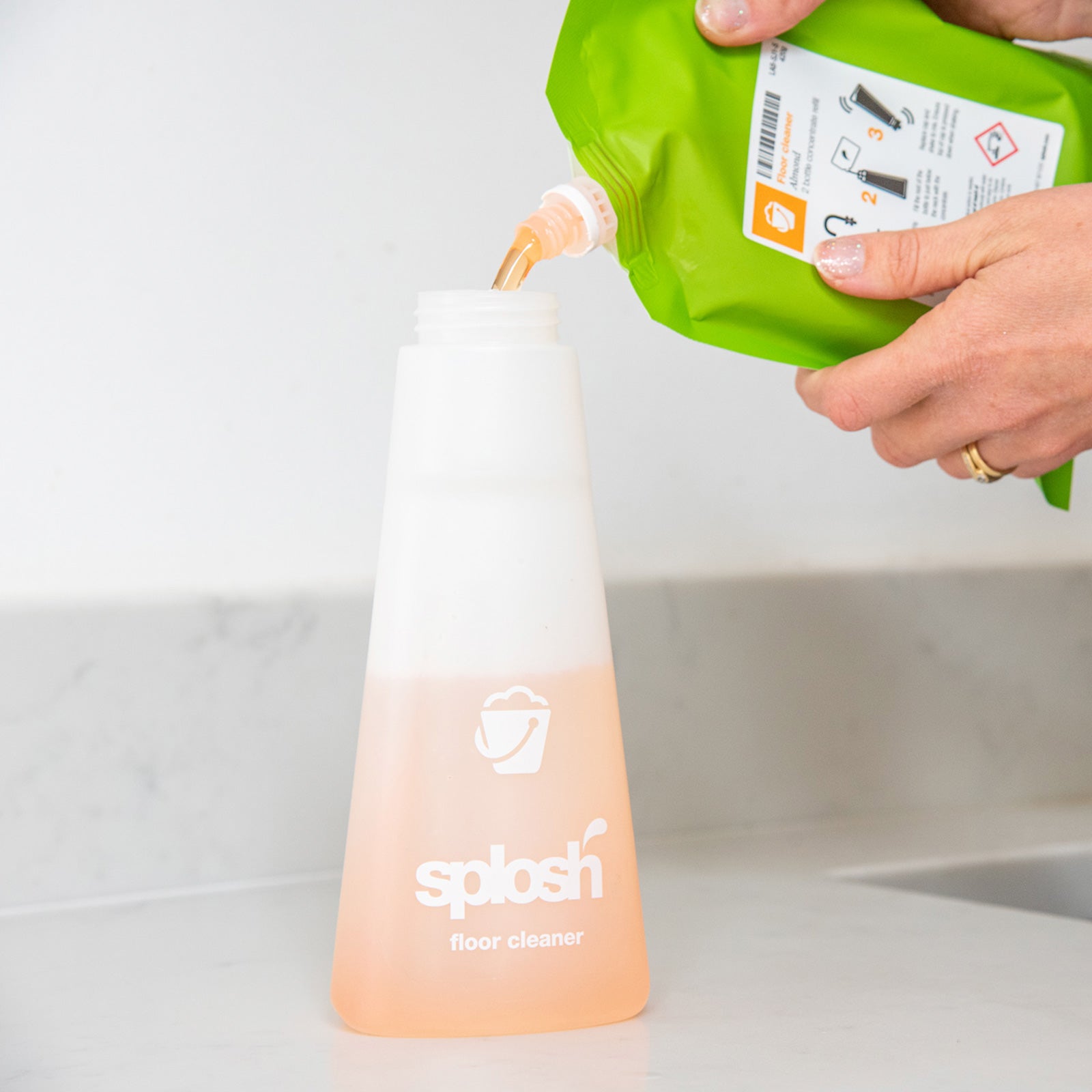 Your customers will love Splosh
They don't have to remember to bring back empty bottles in order to buy a refill. If they forget to return their pouches, they just bring them back on their next visit.
They visit your store before their bottle runs out, making Splosh more convenient than in-store refilling.
Refilling is easy with Splosh, so it's simple to cut out plastic waste.
Splosh is space saving at home and in shopping bags – because we sell concentrates.
Sign up for a retail account
What happens when the returns box is full?
The pouch returns box is a key part of our easy refilling solution for retailers. It sits on-shelf and takes up little space (our pouches are small as they contain concentrates and compress further when empty). When the box is full, pop them into a bag provided and we arrange collection.
How do we cut out plastic waste?
After many years' experience, we've worked out that refill pouches provide the best combination of top product performance, great value and easy refilling.
We take all used pouches back to our factory in mid Wales. We either refill them or make them into new products. These new products are upcycled – in other words they have a higher value than the product they were made from. They are made into durable plastic ply boards for use in the Uk building trade. These boards can be re-made into new boards at the end of their life. This is a great example of the circular economy in action.

Bottles
Laundry liquid bottle 435ml – £5.75
Fabric conditioner bottle 435ml – £6.25
Washing up liquid bottle 420ml – £3.25
Kitchen cleaner bottle 500ml – £3.45
Bathroom cleaner bottle 500ml – £3.45
Toilet bowl cleaner bottle 550ml – £3.75
Hand wash gel bottle 250ml – £3.75
Shower gel bottle 500ml – £4.25
Refills
Laundry liquid refill 23 washes– £5.65
Fabric conditioner refill 44 washes – £12.95
Washing up liquid 3 bottle refill – £6.35
Kitchen cleaner 4 bottle refill – £5.25
Bathroom cleaner 4 bottle refill – £5.25
Toilet bowl cleaner 3 bottle refill – £6.25
Hand wash gel 6 bottle refill – £7.75
Shower gel 3 bottle refill – £7.95
About Splosh
Splosh has been selling refillable health & beauty and home products for ten years. We are an independent formulator and manufacturer, based in Newtown mid Wales. 
Cost prices and ordering
For cost prices, please email hello@splosh.com. Free delivery with orders over £125.00 (Standard Delivery Charge £6.99).
Deliveries
We deliver direct using Parcelforce.
For more information
01497 828186
Learn More

vegan friendly
Splosh is vegan-friendly, septic tank safe and we NEVER test our products or ingredients on animals.

all natural
Our products are as natural as we can make them, so they're kind to the environment and gentle on your skin.

great value
Splosh is great value because we cut out the middleman and deliver direct to you from our base in Wales.

our guarantee
If you don't love Splosh, tell us within 14 days of your purchase and we'll give you your money back.

strong design
Splosh bottles have printed designs and are very strong - so they should last for many years.

spread the love
Do tell your friends about Splosh - they'll love our great performing, zero plastic waste products.